2020 SGI Brewfest rescheduled for October 3!
UPDATE: The SGI Brewfest is on! Saturday, October 3 come join us at Paddy's for the same suds and furry friends you've come to expect. The breweries are on board, the beers are being brewed (well, probably not brewing quite yet!) and we already know October is one of the greatest times to visit St. George Island.
Tickets are on sale now, and we look forward to seeing you there!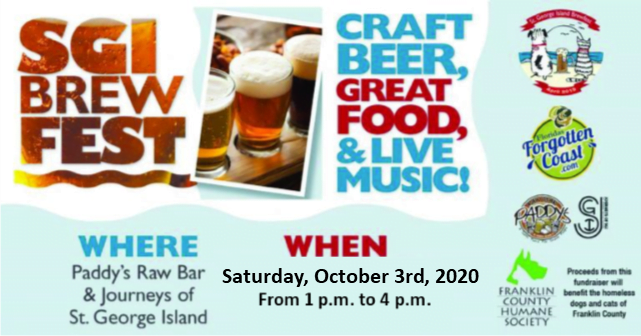 ---
---
---
A note on the move from April to October
Hi Brewfest beer-lovers and pet-pals,
This probably comes as no surprise, but the SGI Brewfest has decided to officially postpone our April 18th event until later in the year. Currently, we are working with breweries and distributors to determine a date in the fall that will work for everyone. Don't worry – we know it's football season, and we'll choose wisely! We look forward to sharing more details about the new date with you as soon as possible.
At the same time, we are working with Eventbrite (our ticket vendor) on policies and practices for Brewfest refunds. Clearly, raising funds for the Humane Society remains our primary mission particularly during what is likely a difficult period to come for small non-profit organizations. Just as important is continuing to build goodwill within and relationships among our SGI Brewfest family (that's y'all).
So stay tuned in the days to come. We're preparing a variety of options for folks who have already purchased a ticket to Brewfest 2020, and we're going to take care of you. You'll know as soon as we have the options finalized.
In the meantime, there are worse ways to spend self-quarantine than kicking back with a couple of cold ones from your favorite SGI Brewfest booth. Patronize the breweries that support us during the weeks to come. Grab that growler to go, pick up that special six-pack at the grocery store or corner market. Let us know what you're sipping on, and we'll talk to you soon.
Cheers,
SGI Brewfest
sgibrewfest@gmail.com
---
---